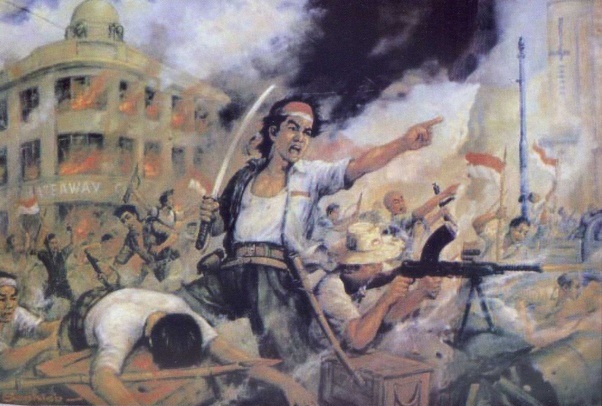 Surabaya Inferno
Surabaya Inferno 1.5 Preview
Now we have page in Steam with latest version and have achivement. You can buy in Itch.io (1.0 version) and get the steam key for latest game version!
https://store.steampowered.com/app/1393810/Surabaya_Inferno/?beta=1

Description
Surabaya Inferno is a real time strategy set in Indonesian revolution at Surabaya, centre of Indonesia resistance at that time from September to December 1945.
This game depicting revolution among Indonesian against Imperial Japanese Army and Allies with high historical accuracy based on Sengkala's research with many source, especially primary source. It offers experience commanding peoples against their enemy in Surabaya starting by consolidation against Imperial Japanese and fighting against Allies army in Surabaya who want punish the exterimist with full power.
Key Features
>Play as Indonesian and explore story of revolution either struggle against imperialist or the dark side of revolution
. >Control all unique unit type and fell experience from units in fighting
>Witness the historical events happen in Surabaya including war pictures depicted revolution in Surabaya by war veteran, M.Sochieb.
>Explore what happen in battle of Surabaya in two map versions
>Mobilizing mass peoples with ill-weapons in defending Surabaya against superior Allies power and try win the battle of Surabaya which impossible to win.
>Morale is important element in this game and you must manage Indonesian's morale in fighting. >Enjoy the music in battle depicting spirit of Indonesian revolution in Surabaya composed by Raden Agung, the experienced Indonesian film composer
-----------

Indonesian Unit
Hizbullah
Hizbullah is moslem militia formed by Masyumi, ulama coucial of Indonesian to assist Japanese Imperial army in war at 1944 but after war over and all militia disbanded, Hizbullah become one of military organization for defending indonesia independence.
Hizbullah have well knowledge in fighting like TKR.

Santri
Santri is islam boarding traditional student. From childhood to teenage, they learn deeply Islam and some of them join Hizbullah. Santri involved in battle of Surabaya after ulama in East Java called jihad to defending Indonesia independence.
Santri have little fire arms and mostly they use bamboo or clurit in fighting

Arek-arek/Surabayan
Arek-arek is popular term for peoples of Surabaya and all of thim is civilians armed either with rifle, bamboo, or clurit.
Arek-arek compare TKR and Hizbullah not so strong but number of them and spirit make them strong.
TKR(Tentara Keamaan Rakyat/Safety People's Solider)

TKR is Indonesian soliders combination of PETA, the native soliders formed by Imperial Japanese in 3 October 1943, Heiho, assistant soliders native formed by Japanaese in 2 September1942 and ex-KNIL, Dutch Indies soliders who want fight for new nations.
TKR have better skills compared to all units .
| | |
| --- | --- |
| Updated | 4 hours ago |
| Status | Released |
| Release date | Apr 09, 2020 |
| Author | Sengkala |
| Genre | Strategy, Shooter |
| Made with | GameMaker: Studio |
| Tags | GameMaker, history, Singleplayer, War, World War II |
| Average session | Days or more |
| Languages | English, Indonesian |
| Inputs | Keyboard, Mouse |
| Accessibility | Subtitles, One button |
| Links | Soundtrack, Twitter, YouTube |