Perang Laut -Maritime Warfare
A downloadable game for Windows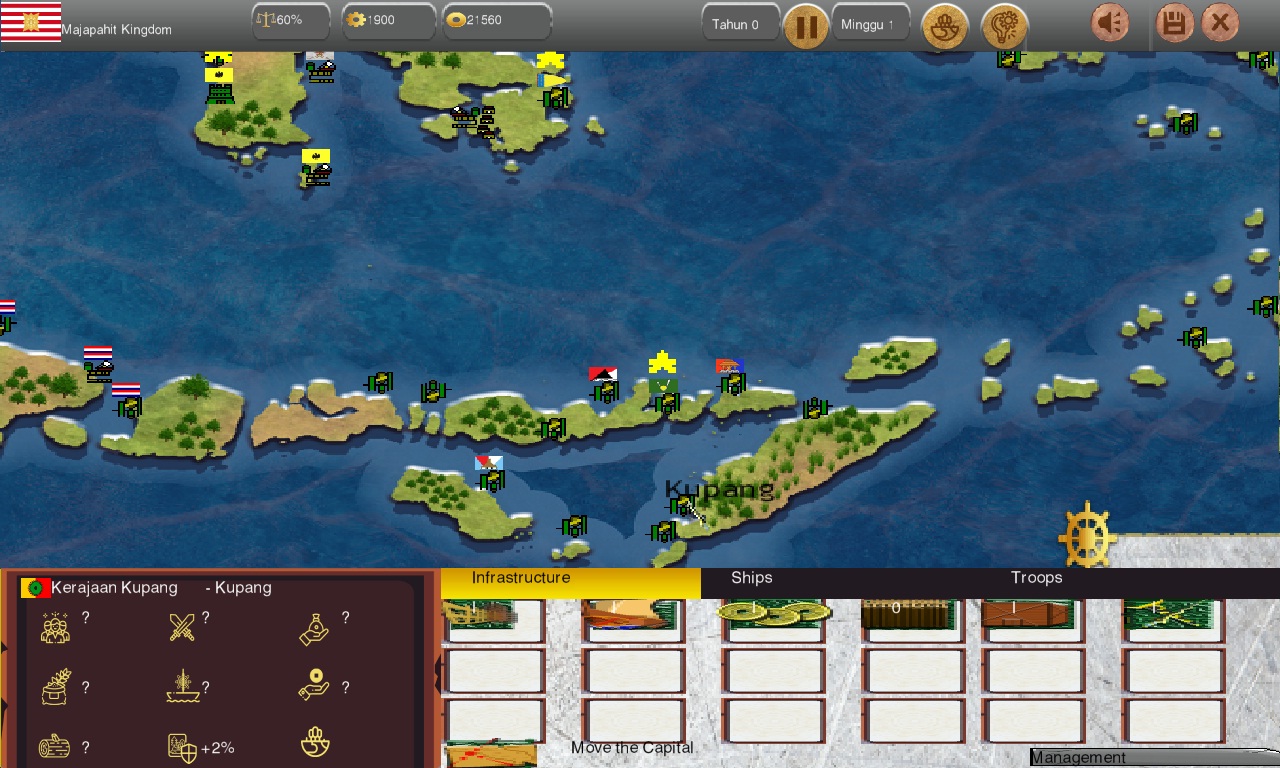 Perang Laut Maritime Warfare is strategy game based on history of maritime kingdom/sultanate in The Malay Archipelago such Majapahit, Srivijaya, Macassar, Aceh, Ternate, Tidore, and many more. In this game, many kingdoms and sultanate will try to expand the territory either in historical way or normal expansion. With map scretch from Sumatra, Malaya, Borneo, South Mindanao, Celebes, Java, Lesser Sunda Island, Maluku, and Papua, player can expand the territory in many place and monopolizing the unique resource such cloves, nutmeg, sandalwood, gold, diamond, and many more!
In this game, there are 2 campaigns: Normal and Portuguese 1512 AD. Portuguese 1512 AD is historical campaign and there are 1 special factions which playable, Sultanate of Demak.
The expansion, VOC will come soon.
Playable Faction:
Unique Power
Short Information
Kingdom of Majapahit


'Last great Hindunese kingdom in Malay Archipelago'


'Nusantara' >Reduce all maintence ports 25% 'Cetbang' >Have gunpowder to use small cannon

Majapahit is last great Hindu kingdom in Indonesia at 14th century. With army and naval power, Majapahit influncing many kingdom in Indonesia , Malaya, and North Borneo.
Kingdom of Srivijaya

'great Budhist empire in East Malay Archipelago'

'Empire from east' >golden resource and transit get double income
Srivijaya is first great kingdom in Indonesia at 8th to 10th century with control Malaka striat and become a richest kingdom at their time.
Sultanate of Aceh

'Ottomans vasal in Southeast Asia'


"Land of Rencong" >Merchant ship attack same with galley
At 16-17th century, Sultanate of Aceh control many port in Malaka striat, either Sumatra or Malaya with naval power and for many times, Aceh tried to expel the Portuguese from Malacca.
Sultanate of Makassar

'Bravest and powerful sultanate in early 17th centuy'

"Rooster from East"
+Construction ship more faster 3x time!
Makassar is powerful sultanate in 17th century with controling many island like Sumbawa, Buton, and east Borneo. Their powerful navy make Makassar tried to repel the Dutch from East Indonesia
Sultanate of Brunai

'Ruler of north Borneo in 16th century.'

"Sultanate of Borneo"
+Monopolizing jewel and champor will double income
in 16th century. , Brunai covered north Borneo (Serawak, Sabah), Palawan, and Sulu. In high peak, Brunai try to defend their subject from Spainish in Philippines.
Sultanate of Malacca

'powerful sultanate in 15th century'

"Jewel of East"
>Income in transit are will get bonus.
in 15 th century, Malacca's wealthiness make many merchants come to Malacca tried get fortune from spice trading which make Portuguese come to Malacca in 1512.
Kingdom of Larantuka

'The native Catolic kingdom which very influence in East lesser Sunda Island in 18-19 century'

"Knight of Larantuka"
Larantuka is Catolic kingdom in Nusa Tenggara area and tried to expand their power by control trading in Sawu sea in order monopolizing Sandalwood.
Sultanate of Tidore

'Rival of Ternate, and Sultan of Papua and Ceram'

"Sultan of Maluku and Papua"
Tidore is faction of neighbor of Ternate in Maluku and try to expanding power into West Papua and Ceram Island.
Sultanate of Ternate

'Rival of Tidore, and Sultan of 72 islands'

"Sultanate of 72 islands"
Ternate is faction of neighbor of Tidore and try to expanding into east Celebes and many islands in west of Maluku
Sultanate of Buton

'Ruler of Southeast Celebes and try to defending Buton from powerful Macassar and Ternate,'

"Fort of Wolio"
Buton seated in strategic island in southeast Celebes and facing many disaster with Macassar and Ternate invasion, and tried to fight agianst marauding pirates.
Sultanate of Sulu

'Gate to South China sea'

"Raider of Sulu"
Sulu located at small islands between Borneo and Mindanao which make this Sulu very strategic for evey nation in world including pirates from Mindanao 'iranun'.


Beside 11 factions, their are many independent faction such Banjarmasin in South Borneo, Pagaruyung in West Sumatra, Pajajaran in West Java, and many more. They trying to defend their port(s) from every threat. In this game, pirates appers in many area and trying to puldering the rich port!

Beside native faction, Perang Laut have several Eropans faction such British East India Company, Dutch East India Company, Spanish, and Portoguese. However, their apperance will come late like real histroy: Portoguese come earlier and start in near Malacca strait, Spanish second and start in near Maluku islands, Dutch third, and finaly British which starting point same like Portoguese. Their behavior is taking all strategic port/(s) such Malacca in Malaya, Macassar in Celebes, Ternate, and Tidore.
Download
Click download now to get access to the following files:
Perang Laut Maritime Warfare 1.2 Demo version updated